"We use PVDF Alucosmith for Architecture wall cladding"
Nanometer Alucosmith® Aluminum Composite Panel
Alucosmith® nanometer Aluminum Composite Panel uses of high-tech nanometer-coating technology which makes the aluminum compsoite panel has much performance superior to the traditional polyester and PVDF panel. With the self-cleaning function, Nanometer Alucosmith® can always keep clean without any cleaning work. It always looks like new building wall even after 10 years application. Nanometer Alucosmith® aluminum composite panels are mainly applied to the high-grade building walls, star-rated hotels, convention centers, aireports, gas stations..... Especially in the area in serious air pollution.
Features of Nanometer Alucosmith®: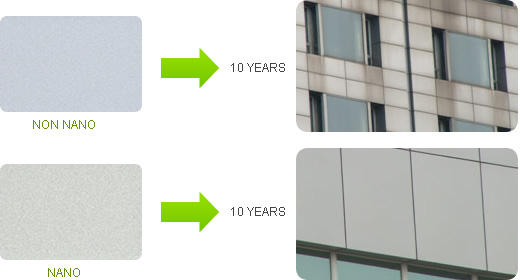 1) Anti-dirty

2) Anti-graffiti

3) Anti-scald

4) Self-cleaning
The dirt will not be easily attached to the surface because of the compact nanometer coating. The dirt would automatically break down under the ultraviolet.
Fire-Resistant (FR) Alucosmith® Aluminum Composite Panel
Panel Performance: conforms to Standard GB/T17748-1999
FR Conforms to:
| | | |
| --- | --- | --- |
| Country | Standard | Grade |
| China | GB 8624 | B-s1,d0,t0 |
| Europe | EN13501 | B-s1,d0 |
| U.S.A | ASTM E84 | A |
| U.K. | BS 476 | 0、1 |
Class A (FR) Alucosmith® Aluminum Composite Panel technical data:
No

Test Item

Test Methods

B Grade Index

Test Value

Result

1
FIGRA(FIGRA),W/s
GB/T20284-2006
B

≤120

3
Passed
2
THR600s(THR600s),m
GB/T20284-2006
≤7.5
0.4
3
LFS,m
GB/T20284-2006
<Sample Size
Conform
4
Fs,㎜
GB/T8626-88
≤150
0
5
SMOGRA,㎡/s2
GB/T20284-2006
s1
≤30
0
Passed
6
TSP600s,㎡
GB/T20284-2006
≤50
35
7
Burning Drop
GB/T20284-2006
d0
600s?No drop
Conform
Passed
8
Filter Paper Burn or Not
GB/T8626-88
Filter Paper No Burn
Conform
9
Smoke Toxicity ,Grade
GB/T20285-2006
t0
Conform to ZA1
ZA1
/
10
Core Heating Value,MJ/kg
GB/T14402-93
/
11.7
AL Heating Value,MJ/kg
GB/T14402-93
0
Coating Heating Value,MJ/㎡
GB/T14402-93
0.4
Panel Heating Value,MJ/kg
GB/T14402-93
5.8
Fire-Resistant (FR) Alucosmith® Aluminum Composite Panel Test:
Burning Contrast Test:

Alucosmith High FR Grade(A2*) ACP Reputation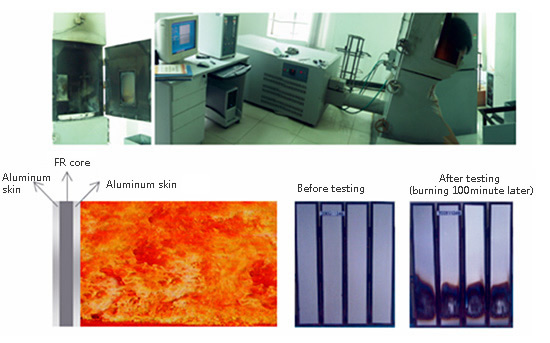 Standard Colour Range
Solid Color
Milky White
High-Gloss Supper White
White
Light Yellow
Soft Green
Soft Blue
Lemon
Peak Green
Sea Blue
Orange
Dark Green
Dark Blue
China Red
Grey
Black
Metallic Color
Pearl White
Metallic Silver
Bright Silver
Champagne Silver
Bright Golden
Gold
FEVE Finish
AS-V002A-FEVE
AS-V006A-FEVE
AS-V011A-FEVE
AS-V012A-FEVE
AS-V015A-FEVE
AS-V001A-FEVE
Special Finish
Mirror Silver
Mirror Gold
Nano Bronze Metallic
Antique Copper
Brushed Copper
Brushed Silver
Special Color
AS-3701 Dreamax
AS-3703 Dreamax
AS-3705 Dreamax
Wild Cherry
Mahogany
Black Satin
Alucosmith® can also be colour matched to almost any RAL colour - allowing corporate colours to be matched with ease.
Technical Specifications
| | | |
| --- | --- | --- |
| Testing item | Standard | Result |
| Unit weight | ASTM D792 | t3mm=4.6kg/m² t4mm=5.5kg/m² |
| outdoor temperature resistance | ASTM D1654 | No abnormity |
| Thermal expansion | ASTM D696 | 3.0x10-5°C-1 |
| Thermal deformation temperature | ASTM D648 | 115°C-1 |
| Thermal conduction | ASTM 976 | 0.102kcal/m.hr°C |
| Flexural rigidity | ASTM C393 | 14.0x105 |
| Impact resistance | ASTM D732 | 1.650kgf |
| Adhesive strength | ASTM D903 | 0.74kgf/mm |
| Sound-insulating rate | ASTM E413 | 29 |
| Flexural Elasticity | ASTM D790 | 4055kg/mm² |
| Shear resistance | ASTM D732 | 2.6kgf/mm² |
| Minimum bending radius | ASTM D790 | (LO)45mm(PO)70mm |
| Fire propagation | ASTM E84 | Qualified |
| Smoke developed | ASTM E84 | <45 |
| Wind-pressure resistance | ASTM E330 | Passed |
| Properties against water | ASTM E331 | Passed |
| Properties against air | ASTM E283 | Passed |
| | | |
| --- | --- | --- |
| Testing item | Standard | Result |
| Finish coat thickness | ISO 2360 (CNS 8406) | 27.6um |
| Gloss | ASTM D532-89 | 20-45% |
| Pencil hardness | ASTM D3363-00 | 2H |
| Toughness | ASTM D4145-83 | 2T no rift |
| Adhesice force | ASTM 3359-97 | 4B |
| Impact resistance | ASTM D2794-93 | >100kg.cm |
| Abrasion resistance | ASTM D968-93 | 64.6L/mil |
| Mortar resistance | ASTM 605.2-91 | 24hrs No blister |
| Humidity resistance | ASTM D714-97 | 3000hrs No blister |
| | ASTM D2247-02 | |
| Boiling-water resistance | ASTM D3359-B | Passed |
| Salt-spray resistance | ASTM B117-03 | 3000hrs No blister |
| Acid resistance | ASTM D1308-87 | No effect |
| | AAMA 605.2-91, TEST#7, 7.31 | |
| Alkail resistance | ASTM D1308-87 | Passed |
| Solvent resistance | ASTM D2248-73 | Passed |
| | ECCA T5&NCCA NO.11-18 | |
| Color retention | ASTM D2244-93 | ▲E=0.34 |
| Chalk resistance | ASTM D4214-98 | No Chalking |
| Gloss retention | ASTM D2244-93 | 84.2% |